Elected Leadership (Executive Board)
President – Cathy Thompson
Program Vice President – Virginia Shaw
Membership Vice President – Debbie Priest
Finance Officer – Pat Gotschalk
Secretary – Pamela Schulz
Appointed Leadership (General Board)
Immediate Past President (ex-officio) – Janet Walker
AAUW (National) Funds Chair – Terry Rosenstock
AAUW (Branch) Fund Raising Chair – Terry Rosenstock
     • Whale Watch Fundraising Committee Chair – Terry Rosenstock
Communications Chair – Sandra Boll
Diversity & Inclusion Chair –
Historian – Janet Go
Newsletter Chairs – Pat Gotschalk & Barry Solomon
Parliamentarian – Dorothy Tolliver
Public Policy Chair – Janet Walker
Publicity Chair – Janet Go
Scholarship Chair – Dorothy Tolliver
Social Media Chair –
Sunshine Secretary – Debbie Priest
Web Master – Marty-Jean Bender
Interest Group Chairs (also on General Board)

Lunch Bunch – Linda Martin
Book Club – Dorothy Tolliver
Bottles & Bites – Mary Margaret Baker
Tastes & Talk – Heather Mueller
Stepping Out – Dorothy Tolliver & Terry Rosenstock
Branch Governance  
AAUW Maui Bylaws
AAUW Maui Policies & Procedures
AAUW Maui Leadership Job Descriptions
Maui Roots
The Maui Branch Founder: Dorothy Shimer, a Remarkable Woman 
Every year the Maui Branch funds a generous scholarship through the University of Hawaii Maui College, named in honor of Dorothy Shimer. Here's some information about this remarkable woman.
Dorothy Blair Shimer earned an AB from Skidmore College, a Master's degree in English and American Literature from Middlebury College, and did graduate study at Columbia, UH and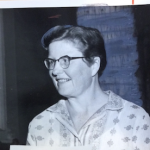 Oxford. At Marietta College (Ohio), she was Dean of Women. She and her husband Dr. William Shimer moved to the islands in 1947 when he became a Professor of Philosophy at UH Manoa. Dorothy and her husband headed an international organization called World Brotherhood and traveled and lived in Asia.
Later moving to Maui, they both joined the staff at Maunaloa Community College. Her position was Associate Professor of World and Asian Literature. In 1962 she brought together a group of 45 Maui women to found the Maui Branch of the AAUW, with the purpose of promoting equality and education for girls and women. She was branch president in 1962-63 and again in 1965-66. She became president of AAUW Hawaii in 1967.
The following year while teaching at Maunaloa as Associate Professor of English, her first book The Anthology of Modern Asian Literature was published. Dorothy Shimer is listed in Who's Who in American Education"and Who's Who of American Women. The scholarship named for her was established by the AAUW Maui Branch in 1994.
Historical note: Maunaolu College was founded in 1861 by the American Board of Commissioners for Foreign Missions as Maunaolu Seminary, teaching Hawaiian girls of grade school age. In 1900 after a fire, Henry Baldwin built the new large building at Sunnyside in Upper Paia. The last commencement was in June 1942. The school was used as a military hospital during WWII. It was reopened in 1950 as Maunaolu Community College, a co-educational junior college run by the Hawaiian Evangelical Association of Congregational Christian Churches, offering the last two years of high school and first two years of college. A four-year college curriculum was developed in 1969 when the school became Maunaolu College (sometimes written Mauna'ola College). In 1971 it merged with the United States International University and later was taken over by the County of Maui. The school is no longer in existence. The building and surrounding land today is used as a treatment center for Maui youth.
Maui Mission
Mission statement